Partial.ly
We are excited to offer you an online layaway option through our partner, Partial.ly. Partial.ly makes it easier to buy the things you love by allowing you to pay with a flexible payment plan on orders of $50 or more! It's quick and easy to sign up.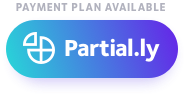 BENEFITS
NO prepayment penalties
NO interest charges
Flexible payment options
HOW IT WORKS
Shop online and add your favorite Fluff & Familia goodies to your cart (total must be $50 or more before taxes)

View your 

cart

 and select the 

Partial.ly

 instead of checkout (it will look like the Partial.ly button above).

If you do not have an account yet, you will be asked to enter your information

Select your Down Payment and Payment Frequency

Proceed to Checkout

We will then send an order confirmation email as normal and hold your order for processing

The automated system then charges your card or bank account at the prescribed intervals until the order is paid in full
Orders will ship

AFTER

all payments have been made
TERMS AND CONDITIONS
There is a Non-Refundable Processing Fee of $3. 
Items will be set aside from our inventory and WILL NOT be sold to anyone else with on-time payment on your plan.
Layaway orders cannot be cancelled once orders are placed.
Payments must be received by end of term or you forfeit your deposit and all items on your order. 

Payments will be automatically sent to you.  It is YOUR responsibility to pay on time. 

Ensure your spam or junk folder is checked for any emails. This is not an excuse for missed payments.
Coupons or Familia Funds MAY NOT be used on Layway orders. Any order that attempts to combine these forfeits your deposit and all Familia Funds or coupon codes.

Fluff & Familia reserves the right to exclude certain product releases, sales, freebies or promotions from Layaway plans or cancel an order for any reason. Clearance items are excluded from Layaway at this time. 

Partial.ly Payment Plans must be settled within 3 months of the original order. Regular payments must be made to your Payment Plan.

Fluff & Familia reserves the right to report delinquent payments to credit agencies and collections agencies.